7 Easy DIY Kitchen Projects You Can Tackle While You're Self-Isolating
There's nothing like spending an extended period of time at home to realize how badly your place needs a makeover.
So if you're one of the millions of people starting to feel stir-crazy during all this social distancing, we've got the answer: Put all that extra time and energy into something worthwhile, like finally tackling some long-overdue home improvement projects.
We've shown you how to refresh your living room and your garage, but now we think it's time to dive into the space in your home that's probably seeing more traffic than ever before: your kitchen.
Whether you're sick of your kitchen or just in need of a rewarding project, these ridiculously easy kitchen DIYs are sure to spice up your dull days at home.
1. Install a dish-drying rack

Photo by red.
Not everyone is fortunate enough to have a dishwasher. And if you're sick of leaving handwashed dishes in a wet pile on the counter (or staring down that ugly plastic drying rack you've had for years), then it might be the perfect time for an upgrade.
"Installing a dish-drying rack is both decorative and functional," explains interior designer Michael Helwig. "Installing one above the sink allows dishes to air and drip-dry, and the decorative aspect makes dishes look neat and orderly. It also makes dishes more easily accessible for daily use, [and] depending on the dishes themselves, can add more color and pattern to the space."
Check out this video to get started.
2. Try a different window treatment (or none at all)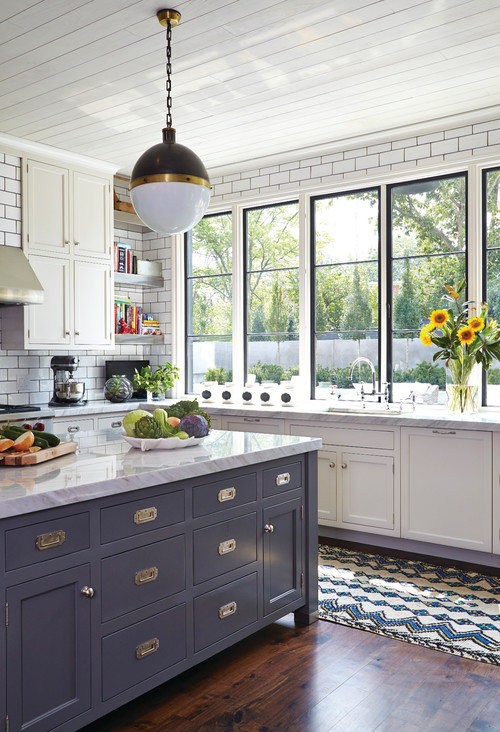 Photo by Marvin
Home decor trends are getting farther and farther away from curtains and window coverings—so unless you have a real attachment to yours, now's a great time to ditch them for a more modern look.
"If you have beautiful architectural windows and trim, let your windows be the focal point in the kitchen," suggests Amanda Amato-Scotto of AMA Designs & Interiors. "Rather than hiding the details with a valance or minicurtain, opt for openness—as long as the sun isn't an issue."
Not quite ready to let go of a window treatment altogether? Try a modern shade for a crisp look.
If you want to add even more interest, select a fabric shade in a pattern or alternatively, a natural, woven shade, for a textural look that allows light to filter in.
__________
Watch: Stuck at Home? Time for Some Touch-Ups
__________
3. Install new pendant lights

Photo by TriplePoint Design Build
Overhead lights can be unflattering, so if you're looking for an easy project that will really make your kitchen—and you—shine, you'll definitely want to install a new set of chic pendant lights.
"Pendant lights add a focal point and can highlight the kitchen island or just add overall interest to the space," Helwig says. "They're also very functional, and add some directional light for an area like a prep space or an island."
Keep it sleek with a clear glass pendant, which won't add any unnecessary visual heaviness, Helwig suggests.
Check out this art-glass pendant from Lamps Plus to get started.
4. Remake the cabinet doors

Photo by Haven Design and Construction
Want to make your kitchen look instantly as if it belongs in Architectural Digest? Swap out your tired cabinet doors for ones with glass facing.
"Adding glass panes to cabinets allows you to merchandize the glassware and dishes," Helwig says. "This concept works because it adds visual openness to the space, and it also provides a layered effect."
Turn this into a workshop DIY, or shop your local lumber yard to find custom windowed cabinet doors.
5. Repaint your kitchen island to make it pop

Photo by Artistic Designs for Living, Tineke Triggs
Painting your cabinetry will easily get you a fresh look in the kitchen. But if you don't have the fortitude to paint a whole room, why not just paint the island?
"If you have the patience and time, change the look and feel of your kitchen by painting your island a contrasting color," Amato-Scotto says.
When selecting a color, keep in mind the color of the countertops and other surfaces in the kitchen. And before you commit to a shade, always view the test sample by standing it upright instead of looking down at the color, since that's the way you would view it on your island.
Take a peek at this "Kitchen Color Inspiration Gallery" from Sherwin Williams to find your perfect color.
6. Show off your coffee mugs

Photo by New England Design Elements
Dylan Murray, who is housebound in New York, recently started tackling some small projects in his kitchen, to stay busy. One of his favorites? Adding under-the-cabinet hooks for coffee mugs.
It's an easy upgrade that will clear space in your cabinets (to store all those dry goods you stocked up on!) and add personality to your kitchen.
"It's super simple, but we love how they look," he says.
Buy a set of these under-cabinet hooks to start showing off your favorite mugs.
7. Organize your pantry in style

Photo by NEAT Method Santa Barbara
Chances are that your pantry has seen a lot of extra traffic in these past few weeks, so why not take the time to give it a makeover?
To get started, clear out your pantry and start sorting like items together. Then comes the fun part—choosing how you'd like to organize it all.
"You can use woven baskets, clear bins, or a combination of both," Amato-Scotto says. "Baskets are great for snacks and chips, as those items can't stack or stand upright on a shelf. Clear bins and containers are good for items that you use frequently, so you can view at glance how much is left."
Need some more containers to keep your pantry tidy? Check out the selection at the Container Store.
https://www.conceptzhomeandproperty.com/wp-content/uploads/2020/04/c9a08ce1691a74dde97019c664db1d46w-c0xd-w685_h860_q80.jpg
385
685
Concept Z Home and Property
https://www.conceptzhomeandproperty.com/wp-content/uploads/2018/01/ConceptZLogo-dark.png
Concept Z Home and Property
2020-04-22 21:13:39
2020-04-22 21:13:39
7 Easy DIY Kitchen Projects You Can Tackle While You're Self-Isolating